Editorials and Articles Archive
Hawaii Five-Oops
Something went wrong after AI17 returned from the Aloha State, but we're not exactly sure what
25 May 2019
So, uh...what the heck just happened?
If you're joining us this fine Spring weekend to see if we WhatNotToSing.com editors can provide any clarity and insight into the just-concluded American Idol season...well, nice weather we're having, huh?
Honestly, we're at a loss, too. Everything seemed set up for a spectacular Season 17. The series reboot in 2018 was an uneven but mostly-entertaining affair that led to a deserved winner being crowned. The second season of a three-year Epoch is almost always the best. The production staff returned almost unchanged. The judges, as awful as they were last year by Idol standards (and that's really saying something), had a full season under their belts, and they assured everyone that they'd learned from their rookie mistakes. The audition season produced...well, it produced a lot of crappy, silly, boring episodes, but that's perfectly normal, plus it was peppered with what appeared to be plenty of legitimate musical talent. Hollywood Week – see "c,s,b" above, but it was nothing out of the ordinary either, and the pre-performance rounds were capped by what appeared to be a truly outstanding beach concert in Oahu. The judges may have made a mistake or two in casting the semifinals, but as Laine Hardy and Alyssa Raghu just demonstrated, there's no law against keeping a promising young contestant on the back burner for a future season, where they'll be better prepared to compete for the crown.
When the Top 20 was announced, our only concern was, "How are we going to sort through this much talent to pick a winner in just seven calendar weeks?"
Today, after a 49.3-rated season, we're wondering, "Can we go back to Hawaii and get a do-over?"
So, in short: no, we don't know what happened, either. Let's walk through it and see if anything stands out from an Idol season that was tremendously successful from ABC's point of view, but which, at least to us, ultimately felt very disappointing on the other side of the TV screen.
The Untouchables
If there was a legitimate, widespread worry coming into this spring, it was about the judging panel. Katy Perry, Lionel Richie, and Luke Bryan showed tremendous chemistry and playfulness in the AI16 audition rounds, then deftly segued into what was arguably the worst display of Reality TV talent-judging in modern American history. We are merely being polite about the "arguably" part. It's way too early in the article to bring out the big guns.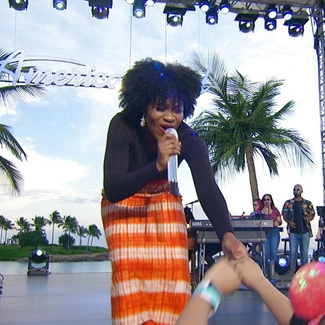 This year, our intrepid trio once again shone in the episodes that nobody gives a damn about, but which 19E and Fremantle figure they have to waste four weeks showing anyway, because (a) they spent roughly the GDP of Luxembourg running auditions around the country, (b) they have approximately 30,000 hours of raw film from that period, and (c) if they instead ran five more weeks of live shows, they'd probably have to pay Katy Perry another $25M, and that's simply not in the budget.
There were some scattered highlights in those early weeks: a few gag auditions, a simply wonderful "Punk'd" segment featuring the defending champ disguised as a Goth airhead, and a Pomona multi-instrumentalist in a wool cap who had what the producers hyperbolically described as "the best audition in American Idol history." Not really, but Alejandro Aranda was pretty impressive nonetheless, demonstrating high craftsmanship on both guitar and piano plus original songwriting skills. His vocals were awfully soft and breathy, but hey, mentor Bobby Bones and the AI musical directors shouldn't have any problem fixing that, right?
Hollywood was next. As usual, it was a mild improvement over the Audition episodes, which equally as usual is not saying much. Naturally, it culminated with contestants sitting on the floor of a hotel conference room nervously awaiting their fate, because chairs aren't in the budget either. At this point, having exhausted our annual pleas to 19E to stop this cruel, pointless, time-wasting, utterly unwatchable 'tradition', we can only propose to the Idolsphere: let's all boycott this episode in 2020. We can read online about who made it through, and maybe a 0.1 in the demo will get ABC's attention.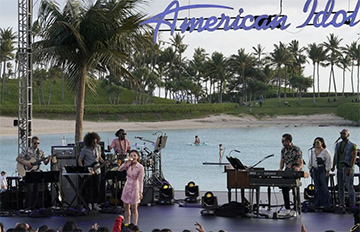 The Top 40 were rewarded with a trip to Hawaii. Yeah, it was a tie-in to one of the Disney Vacation Club premier resorts, but what did you expect? Anyway, the scenery was terrific, and so was what we saw of the concert. Voice-overs and cutaways helped advance the backstory of each contestant. The traditional "Green Mile" episode was on deck (our 2021 boycott target, just so you know), leaving us with an acceptable Top 20, plus at least a half-dozen cut quarterfinalists whom we fully expect to see in future seasons. So far, so good.
The semifinals began on April Fools' Day. We'll eschew any wisecracks. Besides, if we're being honest, the kickoff show was quite decent, notwithstanding the fact that the producers crammed an Idol-record 20 solo performances into one two-hour taped episode. Upon rewatching it, we realized that they were able to accomplish this feat mainly by omitting virtually all intro packages and by limiting the judges' critiques to brief, obsequious flattery. We're on board with both ideas, particularly the latter one.
The first 90 minutes produced no major highlights as far as WNTS approval ratings are concerned. Nigeria-born Uché Ndubizu, going by his first name only, produced a 73 on Figures, which was tops during that extended opening stretch. Of the first 14 performances, only he and Hardy reached 4-stars. Oh well, Opening Night is always a sloppy affair, and anyway, the final six performances ended the show with plenty of momentum. All were 3-stars or better, highlighted by back-to-back 5-star triumphs courtesy of Maryland choir singer Jeremiah Lloyd Harmon, covering Bob Dylan, and Texas country-folkie Laci Kaye Booth, covering Cheap Trick. Wait, what??!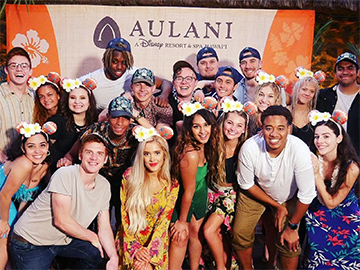 It was true: Booth rearranged the punk-rockabilly classic I Want You To Want Me into a sensual neo-country ballad, earning a well-deserved 86 from web reviewers. And, if anything, Harmon was even better, taking the Idol staple To Make You Feel My Love to a 92 after normalization – the first "showstopper" of American Idol 2.0. After having gone the entire first season of the reboot without a 90+ performance, AI17 effectively ended the vigil right out of the gate. The episode average was a healthy 49.6, very good by historical standards. Just imagine how strong the Finals were going to be after the weaker half of the field was culled.
Round Two of the semis was Celebrity Duets. This is the third straight season for them, which we suppose qualifies as a "tradition" too. They're honestly not among our favorite parts of the Idol calendar, but meh, they're mostly harmless. They do allow AI to showcase this year's talent alongside contemporary pop artists, for better and for worse. Among the "better": a pair of stellar performances by English stage luminary Cynthia Erivo, partnering Harmon and California crooner Ryan Hammond. Among the "worse": Madison VanDenburg and Kate Barnette getting schooled by Pat Benatar, who at 66 still possesses some of the finest rock-and-roll pipes on the planet. (Props to Benatar for thoughtfully trying to hold back and not overwhelm her partners' vocals, but it was like trying to drive a Lamborghini 20 MPH down an empty freeway.)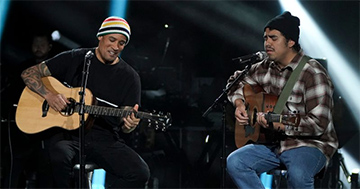 Two of the duets were noteworthy in that the semifinalist requested and received a specific celebrity partner. New Hampshire teen Evelyn Cormier, a serial Reality TV contestant, sang her audition song Wicked Game with none other than Chris Isaak himself. Aranda joined his Pomona compatriot Ben Harper on "There Will Be A Light". Both performances earned pretty good web reviews (a 60 for Aranda & Harper, a 49 for Cormier & Isaac), but more importantly, both felt more natural and fluid than many of the other pairings. Barnette, whose journey ended this round, drew a particularly unsuitable duetmate for her thinner, jazzier voice. We love the idea of having the contestants choose their dream duet partners, which would elevate this new 'tradition' into one we might actually look forward to each year. But, if the producers can't fulfill the bucket-list wishes for a majority of the field, it's fairer not to give special treatment to just one or two of them.
Of the six contestants cut by the judges after this round, only Hammond's dismissal (a 54 solo, a 62 duet) seemed to us a clear error. We would not have minded hearing one more performance out of Brooklyn chanteuse Cristina Contreras, whose Top 20 solo performance was a 1-star mess, but whose duet with Shaggy we thought was surprisingly good. (Officially a 44 in the spreadsheet, but we graded it at 65.) It may not have helped her cause that Contreras sang under her childhood nickname, an idea that has worked out swell for Philadelphia's Alecia Beth Moore because her voice and her songwriting could outshine whatever silly monicker she chose for herself. For pretty much everyone else out there considering an American Idol run, we'd strongly advise: stick to some variation of your real name. You need to make a personal connection to the voters if you hope to win. It's easier to do that when the viewing audience isn't having flashbacks of being stung by a bee.
With an incoming Cast Rating of 57.9, fifth-highest in AI history for a semifinal episode (this one's the leader, if you're wondering), we think we can be forgiven if we call the Top 14 show a major buzzkill. Just two of the first hour's performances reached 3-stars, and frankly, both of those ratings seemed rather generous. Poor song choices were a major factor. Eddie Island and Wade Cota picked songs that had been done memorably well in the past on Idol. Riley Thompson picked one that had been done memorably badly and managed to improve on it only a little. (In fairness, however, that previous singer has gone on to have a nice career.) Cormier, whose distinctive contralto voice is best suited only for certain songs, chose a jarringly unsuitable one. As the nine o'clock hour struck, and with the episode average sitting at a stunning, miserable 28 halfway through, we buried our faces in our hands and asked ourselves for the first (but hardly the last) time this season: What the heck just happened?
As it turned out, the producers made a poor choice of their own: they elected to back-load the strongest performances into the latter half of the episode. That's generally a smart strategy for any variety show, but we respectfully believe that on this night, they took matters too far. The first hour was a complete slog to sit through, and it may have dampened the audience's mood for the second hour, which averaged 61 to bring the episode's final rating to 44.6.
Harmon and Booth were once again one-two on the night. They were voted into the Finals by America, along with Aranda despite a 27 rating on Drake's One Dance. It looked for all the world at the outset like American Idol was finally going to see a true EDM performance. With laser-like lights shining behind him and a smoke machine providing just the right atmosphere, Aranda demonstratively set up a drum rhythm on his synthesizer, put his hands to the electronic keyboard, and...well, basically, he whispered roughly three notes over and over for two solid minutes. It earned a standing ovation from the judges, but this season, so did an on-time delivery from GrubHub. Most of the Idolsphere, meanwhile, sat at home staring at their TV sets and wondering, say it with us: What the heck just happened?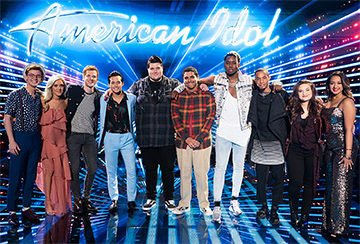 Also voted through were VanDenburg, Hardy, Cota, and Alabama college student Walker Burroughs who closed the show with a pleasant but unremarkable 41-rated rendition of Climb Ev'ry Mountain. That too earned a standing ovation from the judges. Virtually everything this year earned a standing ovation from the judges. If those three merely sat in their seats and clapped wildly after you sang, followed by giving you fawning vocal praise, it was the equivalent of Simon Cowell ripping you a new rectum.
For the second straight year, none of America's choices for the Finals were African-American. Traditional and social media shockingly took note of this fact, leading to a Wild Card show the next night where, if you couldn't predict who two of the judges' picks were going to be, you probably have no future in sports handicapping. There was a clear Idolsphere consensus that Uché deserved to go through. Baltimore's Dimitrius Graham, on the other hand, had work left to do, in our opinion. He rose to the occasion with a pretty good vocal covering the ubiquitous Billie Eilish, on a night in which most performances rated out well below 50, to earn the ninth chair fair and square. Slot #10 came down to either Raghu or Ashley Hess; the latter had the better overall portfolio, the former, in true Camp Should-a-Been style, produced a better-rated performance on this night. The judges chose Raghu.
We'll pause to note here that Lionel Richie 'saved' Uché by running up on stage after his performance and escorting him directly to the Finalists' seating area. It was a brave, unique, highly emotional, spur-of-the-moment demonstration that made for breathtaking live TV. Kind of like how Katy Perry saved Ada Vox precisely the same way last year. Or how Jennifer Lopez saved Jessica Sanchez in 2012. J-Lo's original reaction was undoubtedly sincere; as for KP and LR and any future copycat judge: knock it off, already. That schtick's due date has long expired. You may be great singers but you're lousy actors.
CSI: Los Angeles
Just as it was last season, the theme for first week of the finals was The Music of The Mouse. We know many of our correspondents are already tired of this latest tradition, and we sympathize. Personally, we're still okay with it. As we noted last year, it's basically a broad "Pop Showtunes" theme accessible to younger viewers, the Disney canon includes a wide range of strong material, and in any case, it's not like ABC is ever going to pass up an opportunity for mass cross-marketing. It's what they do. Besides, AI16's show was terrific, garnering a 61.0 average rating. Why not give lightning the chance to strike twice?
Well, the producers did, and the lightning didn't. This year's Disney episode, inexplicably mentored by Rebel Wilson, came in nine points lower. The problem wasn't a couple of train wrecks pulling down the average, either: Every performance scored at or above what we consider the "acceptable" cutoff of 30, and only Cota and Aranda fell below 40. But, only four contestants broke 50, led by Princess VanDenburg channeling Princess Moana to a 76. It was an okay night, but yet again, what we Idol fans expected and what we got were far apart.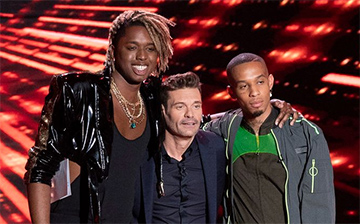 At the end of the show, after the nationwide live vote, Ryan Seacrest announced that Uché and Graham had the lowest totals. The former earned a very charitable 45 from web reviewers for his rendition of I 2 I, from the criminally underrated A Goofy Movie. (We're assuming it was 40 points for the choreography and 5 for the singing, to be honest.) The latter earned a very stingy 63 for You'll Be In My Heart, from Tarzan – a song we don't even like but which we thought Graham sang superbly. At any rate, the sight of the only two black finalists of 2019 going out together on the first night...um, yeah, not a good look for the franchise. Should the judges have used their one and only Save of the year on either? Uché had rated strongly to this point (his 64.3 average ranked second on the season) but had suffered an off-night. Graham had a so-so campaign but a strong (and upwardly-trending) approval rating tonight. The judges elected to let them go. That was painful but wise: both guys were Wild Card picks, meaning they'd essentially been "saved" once already this season.
(We already had something to say about the AI voting system after this episode, and we'll have more later in the article.)
For our money, and despite its pedestrian 48.7 episode rating, the most enjoyable night of the season was the Top 8 Show, starring one Adam Lambert as guest mentor. Evidently he knows a thing or two about singing Queen songs. In all seriousness, Lambert was terrific, giving the contestants helpful, actionable advice that they mostly used to their advantage onstage. Given that Bobby Bones knows a thing or two about singing himself, we're at a loss to explain how Lambert could just stroll into the office one day and fix a bunch of vocal issues that Bones, along with every long-suffering Idol fan, surely also recognized, and which he must have tried for weeks to correct.
Whatever the reason, our old friend Adam got it done. Booth and Harmon dropped a pair of 5-star gems, while Hardy, VanDenburg, and Raghu all cracked 50 on their solo performances. There were also four Movie Duets – you could have won a small fortune from WNTS Inc. if you'd bet us before the show that nobody would do Shallow. We thought three of the four duets were pretty good to great, notwithstanding a lyrics flub by Hardy that he covered well. While we're not normally a fan of contestant duets, as you know, we concede that with eight singers, it makes more sense to do eight solos and four duets than to try to squeeze 16 Finals performances into a two-hour time slot.
So why did the episode rating wind up below 50? Three reasons. One, Cota forgot the lyrics to We Are The Champions, which takes some doing. Two, Burroughs and Aranda teamed up for what was the most bizarre performance of the season – imagine singing Mrs. Robinson like Shout, except when you get to the part about "...a little bit softer now", you keep repeating it without ever reaching "...a little bit louder now!" Three, Aranda hit rock bottom with a 15 approval rating on Under Pressure. Grrr...seventeen freaking years we've waited for someone to sing a David Bowie song on American Idol, and when a contestant finally does......(*ahem*). Anyway, we thought "Pressure" deserved a similar rating to "I 2 I": 40 points for the brilliant emo-ballad arrangement, and 5 for the singing. The Idolsphere concurred with the latter but only awarded Aranda 10 for the arrangement. Tough break, kid.
Raghu and Burroughs were eliminated, for no particularly good reason. Not that either was a threat to finish first this year, but many in the Idolsphere, including us, felt that Aranda and Cota were no-brainer choices to leave that week. Cota's rich but gravelly voice, which sounded as though Tom Waits and Kim Carnes secretly had a baby, wasn't getting any more accessible over time. Aranda's approval ratings were in free-fall. Well, no worries, they'll surely bomb out the following Sunday, right?
Not so fast. On the unlikely dual theme week of Woodstock and Showstoppers, mentored by Lauren Daigle, Cota and Aranda each turned in their strongest nights of the season. Cota's performances (one a Joe Cocker cover, naturally) averaged 53, a marked uptick from his mid-30s average. Aranda, meanwhile, unexpectedly regained the mojo he'd had during the Audition and Hollywood rounds. His polarizing (29 s.d.), hypnotic twist on the ultimate acid-rock song White Rabbit was decidedly love-it-or-hate-it, but it was his original song Poison, delivered at the piano, that turned his season around. At 81, it was the only 5-star performance of the year by anyone with fewer than three names.
With their patience finally rewarded, fans of Aranda and Cota voted early and often, leading to a classic Idol Sesame Street Syndrome situation where a frontrunner might be in unexpected danger. Who would be the victim? Booth certainly picked a lousy night to be, well, lousy-ish. Her voice sounded vaguely hoarse on both her songs, perhaps due to illness, and neither rating broke 50. Hardy and VanDenburg each delivered one 4-star performance and one in the 40s. Harmon, of course, would be most assuredly safe – not only was he in the process of pitching the first WNTS 'perfect game' by a male contestant, but he singlehandedly kept the producers from being sued for false advertising by delivering a legitimate 90-rated showstopper during the Showstopper round: Somewhere. Though you know, that 63 on Swing Low Sweet Chariot feels awfully 'soft' to us. Could it be?...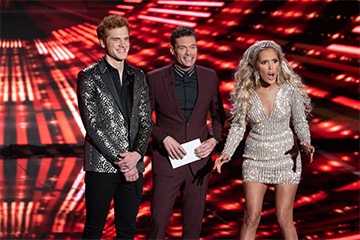 ...Yeah, it could. Harmon and Booth were the bottom two vote-getters. With the top of the hour approaching fast, and the credits rolling on the bottom of the screen, the judges had to scramble. They took 30 milliseconds to elect to use their Save, then 60 painful seconds debating which singer it would be. A shaken Katy Perry (remember: good singer, lousy actress) croaked that they'd decided to save...wait, Laci?
Even Booth herself was mortified at the call, mouthing "No!" as the screen faded to black. No doubt the judges (and, ahem, the producers) had prepared a priority order for exercising the Save this week, which would expire if it went unused. But, understandably, they probably didn't spend too much time discussing this particular scenario. Booth and Harmon had produced eight of the AI17 Top Ten performances on WNTS. Dismissing Booth would mean there'd be only one girl in the Top 5, on a series that had longstanding issues with gender equality. Dismissing Harmon would merely eliminate the highest-rated male contestant of the first seventeen seasons (80.1). We suppose that adjudicating no-win scenarios like this are why the judges get paid the big bucks. It's sure as hell not for their critiquing skills.
Few things can put a pall on an American Idol season like a shock boot of a highly-rated contestant. Perhaps, then, there was a silver lining to the fact that ABC only committed to five live Finals episodes (up one from last year, at least.) With just one show to go before the Finale, there was little time for moping. Final Five Night featured one round of songs from Sir Elton John, one chosen for each contestant by Bobby Bones, and a final round with the unwieldy theme of "Hero Tributes". The latter was originally advertised as "Mothers' Day", same as last year; we imagine that such a theme was uncomfortable to at least one of the five remaining singers.
The 49-rated show can best be described as 'unremarkable' – again, a clear disappointment compared to AI16, where the Mom Round produced five fine results. Complicating matters was the fact that the producers tried squeezing 15 solo performances plus a live elimination in two hours. In theory, this shouldn't have been a problem. American Idol routinely used to stage eight acts in an hour-long show, and it's not like Randy, Paula, Simon, and (especially) Kara used to babble any less than the current judging trio does. In practice, the performances (about 85 seconds on average) and the overall pace felt terribly rushed. Nobody came particularly close to 5-stars, and only Cota fell below 20 on an awkward rendition of Rocket Man. There would appear to be a good reason why Joe Cocker never covered that song
Booth and Cota were eliminated, setting up a Final Three of Alejandro Aranda, Laine Hardy, and Madison VanDenburg. Aranda's up-and-down season has been well-documented here. Hardy and VanDenburg, however, have barely been mentioned in our recap, yet here they are in the Finale. What gives?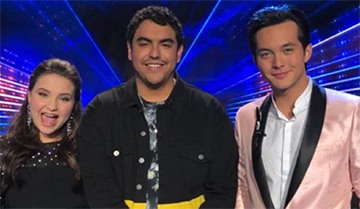 As it happens, both high schoolers (Hardy from Louisiana, VanDenburg from New York) had produced two of the most quietly consistent resumes that American Idol has ever seen – a feat made doubly noteworthy considering that teenaged Idols usually produce a scatter field of approval ratings resembling a shotgun blast. Hardy's top performance, Hurricane, came in at 71. (We thought it deserved better, to be honest.) His lowest, Can't You See, still garnered a perfectly respectable 44. VanDenburg's ratings ranged from a spirited 76 on Disney Night to a 43 on her Bobby Bones assignment.
In past years, we'd call both LH and MVDB "high midcard" contestants, the sort that finish fourth or fifth and whose consistently good 3-star body of work helps form the foundation of Idol's most enjoyable seasons. Season Seven and Season Ten had Laines and Madisons galore. There was nothing wrong with Season Four or Season Fifteen that adding those two to the cast wouldn't have cured. Very possibly, if they'd been in the field in Season Thirteen, it rather than AI11 would have posted the season approval rating that all others are judged against.
But, having both in the AI17 Finale was not what any good Idol doctor would have ordered in 2019. The chance that either could produce a 5-star, "Gimme that crown!" statement was slim. The unpredictable Aranda, meanwhile, could sink and soar several times within a single performance. His original song Blesser, for example, had scored a 72 that was largely because of a spectacular acoustic guitar solo. (One longtime WNTS reviewer commented, "I'm just going to pretend that the vocals never happened, okay?")
As it happened, the Finale went pretty much as predicted, or as feared if you prefer. Other than VanDenburg becoming the latest casualty of Breakaway, all the performances traded within a narrow 30-point band. Aranda elected to sing three original songs, plus a fourth with a backing orchestra for his uncritiqued "celebrity showcase" piece. One rated out tops on the night, another we thought really ought to have been the low. As Correspondent Jamie observed, Aranda's strategy was perhaps a tactical error if his intent was to win (which it may not have been) – the four songs lacked variety and resulted in none particularly standing out. We might deem Alejandro the first "Post-WNTS" contestant: his unique, highly creative, free-form performances that mixed musicianship of the highest caliber with vocals that, uh, weren't, were almost impossible for reviewers to pin a single number on.
The Finale's traditional showcase performances spanned the gamut from the sublime – Harmon and Katy Perry did a duet of "Unconditionally" that was, no lie, as good as anything we've seen on AI since the night Candice Glover slayed Lovesong – to the ridiculous – Weezer's disjointed medley of classic rock covers will not make the highlights reel for their inevitable Rock & Roll Hall of Fame induction. Whatever Montel Jordan sang shall be filed in the bulging folder labeled "What the Heck Just Happened?" Eventually, Kierin dimmed the lights for the final time and Ryan Seacrest announced that swamp-rocking Laine Hardy was the seventeenth winner of American Idol.
If there was a downside to the Finale format this year, it was – we cannot believe we are about to type this – that the Original Winners Song™, "Flame", was not performed in a competition round. Hardy's version of it is legitimately good. We've pretty much given up all hope of seeing an Idol coronation song make the Billboard Top 40 these days, but the single is selling well on Amazon and iTunes, and we hope it'll earn a little airplay and perhaps some traction in a niche chart like Contemporary Christian.
The mostly-meh Finale meant that the season rating finished at 49.3. Normally this is where we advise readers not to judge an American Idol season based on its WNTS average. Some fondly-remembered seasons barely cracked 50 (heck, AI5 didn't even make it that high), whereas AI12's 51.2 stands fifth overall but we never, ever, want to relive that train wreck again. This year though...um, yeah. 49.3 seems just about right. No doubt the talent was there, but the Idol machine somehow devised a way to turn an entire solar farm of potential energy into a AAA battery's worth of power.
Are we any closer to being able to answer the burning question: "What the heck just happened?" Not really, but we'll give it a go.
Quincy, M.E.
First things first: the judges have to go. All three of them.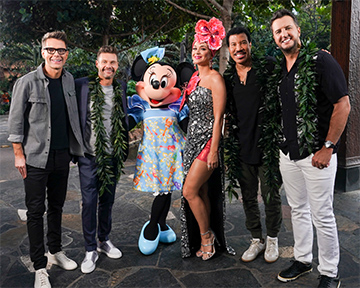 Please be assured, we take this position neither lightly nor insensitively. We know that American Idol judge is a tough, if well-paying, job, and we know all three hope to return for AI18. Virtually every source we've read says that Perry, Richie, and Bryan are terrific behind the scenes. They genuinely like one another. They take their responsibilities seriously. They felt so strongly in 2018 that Hardy would be successful if he had another year under his belt that they coaxed him back with a guaranteed pass through to Hollywood. (Anyone who believes Hardy just happened to show up in Idaho to play guitar for a friend's audition needs their gullibility sensors replaced.) They convinced the shy Aranda not to quit the competition roughly three billion times since last fall. Their casting, while not exactly Jennifer Lopez-quality, still beats by miles the dark days of Simon Cowell and his cruel collection of sitting-duck semifinalists. All of that are deserved gold stars on their report cards.
But, Lord have mercy, we cannot stand the thought of sitting through another season of those three on the live shows, distributing standing ovations and unvarnished platitudes after every performance like grass seed. They are horrible. They make Steven Tyler sound like Voltaire. They make Kara DioGuardi appear pithy. They make Paula Abdul seem like, er, triplets. They promised us they wouldn't be like this two years in a row, and they broke that promise.
We're now two seasons into their tenure, and the overarching motif of the KLL Epoch has been "contestant stagnation". With no constructive criticism nor tough-love feedback to guide them (sorry, Luke, but "just keep being you" doesn't qualify), nor any incentive whatsoever to venture out of their comfort zones, the young singers under their tutelage have pretty much sat quietly and played with their crayons. Aranda is arguably the only contestant this era to display a growth arc of sorts, and that because he recognized after a series of disastrous covers that his only hope was to perform his original compositions whenever he could slip one past the episode theme.
Even if the performance rounds were longer, the current judging panel would be unacceptable. But when ABC has yet to commit to more than five weeks of wham, bam, thank-you-ma'am Finals, they're downright detrimental to the franchise. We hear that the network is willing to bring them back at much lower salaries, which is encouraging, strangely enough. That's often an entertainment corporation's backhanded way of saying, "We want to fire you but don't want the blowback from your social media followers."
The supporting cast also had less than stellar seasons. Ryan Seacrest normally is so smooth and reliable a host that you barely notice he's there. But, this season there were a handful of jarring instances in the live shows where he seemed unprepared as to what he was supposed to be doing or what segment was coming next. At one point, he even "introduced" a performance while forgetting to mention the contestant's name. Yikes! We suppose it happens to even the best of them sometimes.
As for full-time mentor Bobby Bones, we frankly don't know what to say. His background in the music industry is vast and he seems a genuinely nice guy to boot. He may have done a few worthwhile things behind the scenes; e.g., someone wisely talked VanDenburg out of delivering the eleventh rendition of I Have Nothing during the Finale (unless she was playfully trolling the show's longtime fans by claiming that was her first choice, which cannot be ruled out.) For the most part, however, an Idol mentor can by judged only by the quality of the contestants' song choices and the artistic growth they display during their time on the show. Neither speaks well of Bones, we're afraid.
Two people who did mentoring right, it seems, were Lambert and Daigle. The promo clips, though surely carefully edited, showed them giving pointed advice on both singing and presentation to their young charges. The contestants then acted on them during their subsequent performances, almost always to their benefit. (Daigle's advice to Aranda was essentially "sing louder and enunciate, okay?" but that was all that was needed.) The horrid memory of young Riley Thompson cheerily singing Jolene like it was "Walking On Sunshine" seemed like it took place in some other season. Aranda unfortunately regressed a bit in the next two episodes, but VanDenburg ("pay attention to the lyrics") and Hardy ("it's not illegal to move around a little bit, you know") appeared to consolidate what they'd learned. Plus, the combination of Queen + Adam Lambert pulled in the show's biggest audience since roughly the Reagan Administration.
Speaking of which, American Idol's unexpected success in the Nielsen ratings this year is something every fan should celebrate. Good themes, good mentors, and finalists with some legit zeitgeist buzz are a pretty tough combination to beat, as The Voice just found out. The series finished as high as second in the weekly rankings among broadcast shows, despite going up against Game of Freaking Thrones for much of its run. We deeply hope that this will melt away any last vestiges of reluctance among the ABC brass in committing to a longer season next year.
Some of our suggestions for 2020 are such broken records that we think we'll just assign them numbers going forward to save keystrokes. Let's see, there's 218 ("fewer audition shows"), 109 ("fewer Hollywood shows"), 633 ("many more competition shows, which you can achieve easily via 218 and 109, you twits"), 51 ("pimp pieces for every semifinalist or for none"), 865 ("fix the damned voting system, already"), 448 ("buy swaybot repellent in bulk"), 1297 ("fewer repeat songs" – we're looking at you, Madison VanDenburg), and of course, 1438A ("trap doors under the judges' seats if they talk too long"; 1438B involves crocodiles as well.)
One number we'd thought we could retire is 154: "Quit showing cutaway shots of the judges during a performance". This particular annoyance was the brainchild of former executive producer Per Blankens, whose name ought to be accompanied by whinnying horses in the distance. Trish Kinane appeared to clamp down on the practice upon taking the reins, but perhaps Blankens snuck back into the camera truck this season. Anyway, stop it.
The voting system...oy. We don't want to go into too much detail here, referring you instead to our previous editorial. We'll say this to the AI producers, however: Two years in a row, America chose an overwhelmingly white Finals roster. Two years in a row, the chagrined Idol steering committee felt they had to add some demographic diversity to the cast by choosing all non-white Wild Cards. Two years in a row, a Mara Justine or an Ashley Hess, whose approval ratings to date were Finals-worthy, wound up in the alley outside the soundstage door going, "What the heck just happened?" And, if you retain the same asinine "10 votes per contestant per method" strategy, all this nonsense will reoccur next year too, and the year after, and the year after that. No matter where you lie on the socio-political spectrum, please understand that, at the end of the day, this system serves absolutely nobody.
While you're making fixes in this area, you may want to consider an elimination strategy that combines a contestant's long-term portfolio with their most recent performance. Booth was clearly the deserved eliminee in the Top 6 if Camp Should-A-Been rules were in effect, but we make no assertion that that's the ideal way to run a singing competition. It just makes for better snark. Our editorial staff treads cautiously into these waters, because we recall all too well the producers' manipulations in the first decade of Idol. Unearthing a Kelly Clarkson or Carrie Underwood was so potentially lucrative to 19E that all semblance of fair play often went out the window. That era appears gone for good, so maybe it's safe to revisit this topic. Maybe.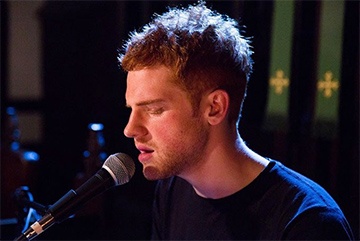 The earlier-than-expected eliminations of Uché and especially Harmon had several of our regular correspondents wondering, "Can an openly gay contestant get a fair shake on American Idol?" We still have nowhere near enough data to draw any reasonable conclusion. However, if you feel you can extrapolate from our earlier Idolmetric studies on race, region, and sex, where White/Southern/Male were shown to be statistically significant survival traits, you're excused if you decide the answer is likely "no". That's our guess too, to be honest.
Uché, honestly, was no great loss to us. Though his smile and energy were off the charts, we nonetheless felt that he was the season's most overrated finalist by leaps and bounds – a Qaasim Middleton 2.0, as it were, whose infectious dance moves covered up a great many bum notes that the Idolsphere would never have tolerated from a stand-and-sing contestant. (Honestly, not to belabor the point about "I 2 I", but if you'd not seen his staging and you'd only heard it over your car's Bluetooth speakers as you were driving home with your family from Easter dinner, you'd know from whence we speak.) Harmon is another matter entirely. The son of a preacher who'd only recently come out, and who was still mending his relationship with his parents, was nothing short of superb, joining Pia Toscano as the only contestants to finish with a 5-star contestant rating. True, his crystal-clear vocals and classical singing style probably make him better suited for the stage, or for a Josh Groban-like concerto career, rather than for 2019 pop radio. It's important to note that one could say the same about Toscano, who also went out earlier than expected in Season 10. Still, Jeremiah's sixth-place finish seems an injustice. We'll keep an eye on this topic in future seasons.
Our guess is that the breakout star this year, if anyone, will be Aranda. His social media following exploded during the last three months, and MJ reports that his just-announced summer concert club tour sold out almost immediately. In a world where Instagram and YouTube rule the artisan roost, Aranda could become as popular of an online music celebrity as anyone. His soft, introspective vocals will translate well to small venues. To large ones, not so much. But, these days a studio artist like Zedd or The Chainsmokers can write the catchy EDM songs, formulate the arrangements, record all the necessary backing tracks, and bring in the likes of Alessia Cara or Bruno Mars to handle the vocals. We personally would love to hear, say, Haley Reinhart have a go at Aranda's reimaginations of "White Rabbit" and "Under Pressure".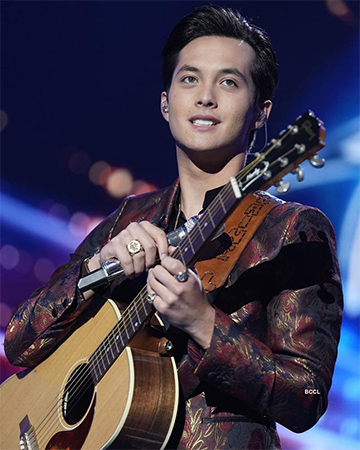 The average song age in Season 17 was 25.8 years, a whopping five-point jump from AI16. That's not ideal. Some of it can be attributed to the Queen-Elton John-Woodstock themes, plus, when there are only 105 performances, a Swing Low Sweet Chariot is going to do a bit of damage to this metric. The Freshness Factor fell to 55% new-to-Idol songs, but the bigger disappointment here is that nobody but Aranda did an original composition. [Ed. Note: Oops! Correspondent Dan corrected us. Harmon did one, too: Almost Heaven, his 'Victory song' on Wild Card night.] The Repeat Factor jumped to 1.06; VanDenburg (2.54) is probably hiding from us behind her bedroom dresser. Oh yeah, annual complaint #1162: "Will somebody please inform the contestants that Queen has more than a dozen songs in their catalog?"
The show's production values seemed to slide a bit this year, particularly in terms of sound mixing and pacing. Aranda assuredly wasn't the only contestant to be drowned out at times by Bandzilla. Stationing Ryan Seacrest backstage in the contestants' lounge caused too many awkward logistical issues. And, we hope it goes without saying that the Final Five show should have comprised 10 performances, not 15. That said, and all things considered, ABC and Fremantle do a pretty good job. If you watch the commercials for other live prime-time shows, like Jesus Christ Superstar or this week's All In The Family/The Jeffersons reenactments, they make it sound like any little glitch might cause the actors to die in a raging nuclear fireball in front of 10 million viewers. Yet, this Hunger Games-hazardous world is what the American Idol production staff simply calls "Sundays".



So after all this verbiage, have we answered the $64,000 Question yet: "What the heck just happened?" We haven't? Okay. Some simple questions have no simple answers.
AI17 wasn't a disaster by any means, but it was a disappointment. There was no single reason. The judges spent six months off camera being professionals, followed by nineteen televised hours being blockheads. The in-house mentor got out-done twice. The contestants were immensely talented but, by and large, didn't perform as well as we'd expected. The voters, and the voting system, delivered their annual knee-buckling punches. (In hindsight, Season 13's elimination sequence was like Joe DiMaggio's 56-game hitting streak: a statistical anomaly for fans to savor, because it'll never happen again.) And, the network seemingly cannot fathom why seven calendar weeks from Top 20 to Confetti is like trying to prepare filet mignon in a microwave.
But, even a disappointing Idol season beats a hiatus. The winner is a niche artist, but for his age in that niche, he's fantastic. Several of the also-rans should have long and successful careers in various aspects of the music business. The coronation song is good. And, most of the problems that beset AI17 can easily be fixed in AI18. Except, they won't be. And we'll be back anyway, happily chronicling American Idol in 2020. See you all then.
(All photos in this editorial are courtesy of American Idol and ABC Television.)
- The WNTS.com Team