Editorials and Articles Archive
Loose Ends
This editorial is brought to you by the letter Z and the number 9...
7 May 2013
With just two weeks to go in Season 12, and no shortage of forensic pathologists across the Idolsphere preparing to conduct a post-mortem on a corpus that pretty much started out DOA and deteriorated from there, we figured we ought to keep our scalpel sheathed until after the Finale. Here instead are a hodgepodge of American Idol-related items which individually might not be worth a full editorial, but they're all possibly worth thinking about.



Back in March, we discussed the issue of Idol's sagging TV ratings. We identified three timeframes in which the show could lose viewership: the pre-voting rounds (Audition, Hollywood, Vegas), the voting rounds (the semifinals and finals), and, oddly enough, the summertime -- that is, the months between a Finale and the subsequent Premiere, during which viewers might decide not to make the investment of their time in following another season of AI.
At the time, we concluded that the show's Nielsen ills lay in the first and third timeframes. Viewers disappeared at a frightening rate during the six to eight weeks of exposition every January, and another big chunk simply didn't come back for the following season. However, ratings during the March/April/May voting rounds were by and large stable. It seemed that once the viewers were actually engaged in the week-to-week results, then American Idol did a decent job of viewer retention.
Considering how Season 12 has unfolded...um, unraveled might be a better term...we figured we ought to see how this year's voting rounds compared to previous seasons. As before, we're using the total viewership numbers from Nielsen rather than just the 18-49 demographic that advertisers drool over, and we're taking into account performance nights only (because they're more consistent week-over-week than guest star-driven results shows.)
Here's the latest pair of charts comparing the pre-voting rounds (left, repeated from the earlier editorial) and voting rounds (right, updated to include S12 through the Final 4).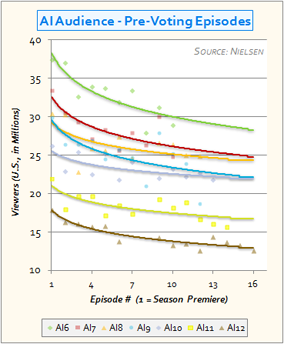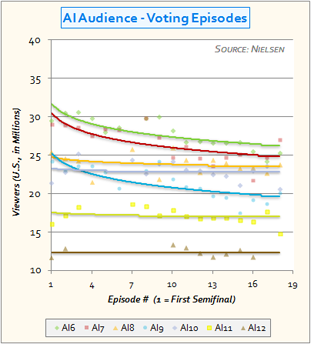 OK, so maybe the music was ancient, the guys were weak, the girls...well, we'll get to them in a minute, the judges were some scary combination of childish and ineffective, the critics were legion, and the producers even got a little testy about all the criticism that fans hurled at them. The bottom line though is that, once again, Idol's overall viewership since voting began has been steadier than you might've assumed. (One caveat: the show's TV ratings cratered by almost 15% this week. Possibly this was a backlash to the previous week's embarrassing judging fiasco. Possibly, it was just an outlying blip. We should have a clearer picture when Nielsen chimes in about this coming Wednesday's show, but regardless, and per our previous practice, we used the average of the two Final Four shows in the graph.)
To be honest, we were stunned to see that flat brown line in the right chart. Granted, it's about 30,000 feet below the yellow line of Season 11, but it's horizontal. We expected to see a big drop-off since the semifinals, suggesting that Idol was now 0-for-3 in retaining viewers across its three annual timeframes. We assumed we'd be spending the next few paragraphs apportioning the blame.
But in fact, despite some normal week-to-week fluctuation, the show's core fans are largely hanging in there...or at least they were until the infamous "MPI" (MacArthur Park Incident). Conclusion: if the producers want to stop the show's six-year slump, they need to overhaul, shorten, or eliminate the pre-voting rounds. And, they need to stop ticking off their viewers after voting does begin, because we're pretty sure that's when people decide that once the current season is done, so are they. Still, even here in this Spring of the Idol Fans' Discontent, perhaps there's still a glimmer of hope.



While Idolphiles everywhere have delivered the blame for this season with a fire hose, one group has remained almost bone dry through it all. That would be the august law firm of Arthur, Glover, Harrison, Holcomb and Miller, LLC. The consensus across the punditry is that the five female finalists did everything they possibly could to make Season 12 a success, but they were done in by pretty much everyone around them; guys and judges and producers alike. We too have parroted this conventional wisdom in a couple of editorials already.
But upon further review...we're not so sure. Certainly the five girls have sung exceptionally well - in fact, as you'll note in the "By Sex" tab on the Seasons Page, they're averaging 60.4 and are just a fraction of a point behind the Season 11 sextet in the race for the highest-rated group of female finalists in AI history. All well and good...but could they have done more?
And now for a brief but relevant aside: Last week on the Facebook page, several readers were discussing the level of producers' manipulation this season on the eventual outcome. Obviously, it was ridiculously, insanely, intolerably, grotesquely, immorally, you-gotta-be-kidding-us high. But keep in mind, this is American Idol and 19E we're talking about. Even in a relatively good year, at least three or four of those adjectives would apply. Was this year's manipulation really the worst ever?
In our opinion, the last time the producers went so far overboard in attempting to script the outcome that they washed up on the other side of the boat and then leapt off a second time, it was Season Eight. We won't reiterate all of the nonsense that went on that year – if you want to refresh your memory on all the gory details, check out our 2009 Recap and Pre-Recap. Suffice it to say that, like this year, they concocted what they probably thought was a foolproof plan to get the result they wanted, put it into operation...and immediately, everything went wrong. By the third week of the Finals, the Idolsphere's mood was almost as foul as it is right now.
What saved that season, to the point where some longtime fans consider it one of the franchise's best? The presumptive target of all the manipulation, Adam Lambert, did his best to live up to all the hype, and he was helped immeasurably by a pair of Accidental Finalists, Allison Iraheta and eventual champ Kris Allen. The trio dubbed "Kradison" basically put the whole season on their shoulders and carried it to the finish line via an almost-unbroken string of superb song choices, brilliant rearrangements and stagings, and outstanding performances. From the producers' standpoint, it couldn't have come at a more opportune time.
Not that we are superstitious, but in some ways, we think Season 12 is "karma payback" for Season 8. What we're experiencing now is what could have happened four years ago. The producers got exceptionally lucky once, particularly when you consider that two-thirds of their rescue team weren't even supposed to get out of the semifinals. Their luck ran out in 2013.



But back to this year's girls. While it might be asking too much for them to have pulled a Kradison II, it surely isn't unfair to ask why their song choices have, on the whole, been frequently uninspired with occasional forays into dreadful. Again, the conventional wisdom is that It's Da Producers Fault, and indeed responsibility the geriatric theme nights have to be laid firmly on the doorstep of Nigel Lythgoe. (We might not have a Twitter account, but like Taylor Swift in "Better Than Revenge", we always get the last word.)
Still, it's only fair to note that other contestants from other seasons have also had to suffer through the American Idol honchos' predilection for "senior" music. The S8 cast endured a Motown Night, a Year You Were Born show, an evening of Rat Pack Standards, and God forbid, even the dreaded Disco theme. They coped. In fact, on Disco Night, they even managed to shine, scoring 57.6 by singing disco songs in every genre imaginable except disco.
Moreover, while we at WNTS.com are as guilty of anyone at blaming the producers first, last, and every step along the way, we have to note one important fact. Lythgoe, Warwick, Mike Darnell and essentially everyone connected to the show have made it crystal clear time and time again that song clearance is not an issue. In fact, they get mighty indignant when pressed on this point. Perhaps we should take them at their word. If so, the message is clear: if the contestants want to sing something that's not on the pre-cleared list, they'll shell out some bucks and do their best to make it happen. But if the contestants are content to choose songs that others have already sung on the show, then whose fault is that?
Several times this year, we've heard contestants express delight and/or relief that a particular song was "on the list." Perhaps the fact that these comments make it to the air is 19E's subtle way of sending a "don't blame us" message to their viewers?
And if you're still on the fence, consider this: last week we introduced a couple of new "batting" stats to the Contestants section. One of them notes their win-loss records against other Idols, past and future, when singing the same song. We well and truly meant these statistics to be mainly for fun, but already some very interesting trends have emerged. In particular, some contestants have a knack for choosing songs that other contestants – again, past and future – also tend to choose. Most of these tend to be big ballads, and a great many of them are on the short list of overexposed songs that drive most American Idol fans to drink, as if we needed even more excuses.
If you sort the Contestants list by the "head-to-head" column, you'll see that Jessica Sanchez leads the way with 41 career matchups. Joshua Ledet has 38. Katharine McPhee, 34. The last couple of seasons are unfortunately well represented on the first page of the leaderboard. With the exception of Barrino and Ruben Studdard, however, most champions have managed to keep their HTH totals in the teens, despite giving upwards of 20 performances each. That suggests that they did a pretty credible job of picking material off the beaten path; songs that made viewers say "Oh, wow!" rather than "Not again!"
And one number in particular stands out like a beacon, in none other than Lee DeWyze's row.
Nine.
The Season Nine champ, who in some circles is considered the weakest vocalist to win the AI crown, simply blew away the field when it came to going "off the list". Just nine of his performances have been duplicated by another contestant in the show's history. Nine. In twelve years. Sanchez, who also made it to the Finale, has more than four times as many HTH matchups! Look through DeWyze's song list and his feat becomes even more incredible, because virtually every one of his choices were smash Top 40 hits, often by Hall Of Fame-caliber artists. These weren't deep cuts by any stretch. The closest thing to an obscure song might be Hinder's Lips Of An Angel, which we'd wager at least 90% of Idol fans were familiar with when he sang it to close AI9's Top 20 Guys show.
Couple DeWyze's accomplishment with that of his Season Seven counterpart, David Cook, who we noted a few years ago managed to go an entire season without willingly performing a song that had previously been sung on American Idol. (His only two rehashes were assigned to him during that year's Top 3 show, by judges and producers who weren't nearly as imaginative.) This isn't a Boys Only club, either. Carrie Underwood may have come off to America as a bit robotic on stage in Season Four, but behind the scenes she was nothing if not adventurous: she introduced 16 new songs to the show and posted a microscopic Repeat Factor of 0.20. You get the picture.
The bottom line is this. In the best of seasons and in the worst of seasons, by the strongest of winners and by the not-so-strong, no matter what theme the Powers That Be stick you with, the opportunity to separate one's self from the pack by making smart, fresh, unexpected song choices is always there. So, yes, though the S12 girls have sung well, and while most of them have made a few really good picks along the way, we don't think we're being unfair if we say, "Ladies, you coulda and shoulda done more." And, we viewers would have been eternally grateful if you had.



As you may have seen on the site last weekend, we had some concerns about Amber Holcomb's approval rating for Just Give Me A Reason. Its overnight rating was a 22 with a very low standard deviation of 11. Essentially, the early reviewers didn't like it very much, and that was a widespread assessment. The next day, we received a lot of emails and Facebook messages asking if that number was correct or if it was a typo. While literally no one gushed over the performance, most of those correspondents felt it was much too low and that it certainly shouldn't have been rated below MacArthur Park, which most of those same correspondents felt was rated much too high at 25. We just can't win. (We kid, folks, we kid!)
Anyway, while all this conversation was going on last Thursday evening, we kept tallying ratings – you don't really expect us to pay any serious attention to a results show, do you? And, what do you know, JGMaR's rating starting going up...and up, and up. By Friday, it had jumped nine points in approval and five in s.d. Not that we track this sort of thing, but we're pretty sure both of those would have been WNTS records. (Many years ago, if our feeble memory serves, semifinalist Danny Noriega had a performance that rose eight points between overnights and finals, and last year Elise Testone had one that dropped seven points.) We fretted that the overnight rating might have introduced some variant of an observer's bias into the system, whereby later reviewers may have subconsciously scored the performance higher to counterbalance what they felt was a too-low outlier. Why we fret about stuff like this in the first place, we can't explain, but we did solicit viewpoints as to what, if anything, to do about it.
Overwhelmingly the response was: "Problem? What problem?" As one of our regular correspondents pointed out, our FAQs lay out the rules for what reviews we take into account: those within the 24-hour window between the performances and the results and which appear to be free of any obvious agenda.
Even more to the point: we are enormously grateful to EVERYONE who submits his or her report card after a show. We're up to about 85 people whose historical ballots and averages we track (perhaps only two-thirds submit ratings in any given week, but that's still hugely useful.) Throwing out any of these folks' opinions without a damn good reason would be unfair and absurd.
When the dust settled, Holcomb's rating climbed seven points to a 29, so Danny Noriega, wherever you are: the record is still yours.



While we know that most AI fans will say "good riddance", we just want to give a quick shout-out to the guys at VoteForTheWorst.com, which last we heard will be shutting its doors at the end of this season. No, we don't endorse their agenda in the slightest, but yes, at some level we always appreciated their whimsical mission of trying to throwing a monkey wrench into the natural voting results of American Idol. And, why not? After all, if the officials who stage a tournament have so little respect for fair competition that they try to jigger the outcome at every turn, as 19E does, why should anyone else be criticized if they try to do the same? Godspeed, lads.



We'll finish with this bittersweet, mildly humorous, and in a weird way poignant observation.
We're becoming more and more dependent on our regular Review Crew members, simply because finding independent reviews on the Internet is becoming a very serious challenge for us as Idol's popularity wanes. Many bloggers, particularly professionals employed by large media sites, no longer bother chiming in with their own grades of a performance. Now, they simply note who sang what, summarize the judges' responses, submit their article and "get the hell out of Dodge," as it were. Other bloggers have stopped writing about Idol entirely. AI forums are becoming smaller and sparser, as you surely already know, and the number of comments that you'll find on the top live blog sites is also starting to shrink.
Worst of all, from our perspective, is that the number of non-American Idol websites that provide us with week-to-week ratings is basically nil these days. This is really a pity. We loved reading the opinions from the legions of everyday folks who loved AI – not just we hard-core fans, but from people who gathered on the web to talk about anything and everything. Back in the day when the show was a cultural phenomenon, we'd poll these sites regularly. In fact, Senior Editor Nick lovingly bookmarked almost every site where he could reliably pick up reviews on the previous week's show.
Now, sadly, they're almost all gone. Idol episodes come and go each week without registering a blip on most of the highways and byways of the interwebs. Over time, Nick's list of "live" bookmarks has been decimated. Being the eternal optimist, however, he never actually deletes an entry. Instead, once a site has gone a few geological eras without mentioning the I-word, he prefixes its bookmark name with a few Z's so that they sort at the end of the list, hoping that someday the show will recapture its past glory and that these places will once again become go-to destinations for Idolmetric data.
This weekend, it dawned on him that his bookmark list pretty much reads, in entirety: "Zzzz...." And that, unfortunately, is as pithy of an indicator as to where American Idol stands these days. It won't wake up unless and until the producers do.
- The WNTS.com Team