Editorials and Articles Archive
Stuck In The Middle With You
Among the casualties of AI8's tightly-scripted format: memorable moments
22 March 2009
Our plan this weekend was to follow-up Tuesday's special report with an in-depth Idolmetrics study on the history of the Bottom Three. It seemed like a good idea at the time, but alas, there turned out to be very little of interest beyond the Bottom Three Bounce we originally described. Every study we ran showed pretty much the same result: contestants get a noticeable boost if they survive their first trip to the B3, usually enough to carry them through the next couple weeks. But, there's no bounce to be observed after the second and subsequent visits.
That unfortunate outcome left us short a subject for today's editorial. Our psychiatrist has advised us, for the sake of our teetering sanity, not to spend another weekend blasting the producers for the complete and utter mess they have made out of Season Eight. (That's one of Simon Cowell's favorite putdowns, you say? And Simon joined the official production staff this year? Hmph. Draw your own conclusions.) So what should we write about instead? How about this:



This week's Final 11 episode happened to fall on St. Patrick's Day. Afterwards, while compiling approval ratings, we came across one blogger (our sincere apologies, but we forgot to make note of which one) who made a truly inspired suggestion. Instead of Grand Ole Opry Night, the theme should have been Irish Pop Music.
We love this idea for a variety of reasons. One, we're getting a little tired of the annual Country Night motif, so giving it a one-year rest would have been welcome. Two, if Ryan Seacrest came out wearing a green suit, he would look hysterically like a leprechaun. Three and most importantly, it would have made for arguably the most interesting night of song choices in American Idol history.
The Emerald Isle has produced a fair number of successful pop artists for a land of fewer than six million people (and that's counting the Republic of Ireland and Northern Ireland combined.) But, most of these artists are highly stylized and have a very distinctive sound: Van Morrison, U2, Thin Lizzy, The Boomtown Rats, Sinead O'Connor, The Corrs, The Pogues, Enya, Snow Patrol, The Cranberries, and Westlife, just to name a few. Their complex music doesn't really lend itself to Idol's normal 90-second, wham-bam-thank-you-ma'am treatment.
And that's precisely why we love the idea of an Irish Music theme. It would have forced the contestants to navigate a veritable minefield to find a smart song choice. Sing a U2 classic straight up and you're inviting comparisons to Bono; rearrange it too much and you'll be accused of desecration. (We happen to believe that David Cook performed a nifty balancing act in last year's Finale, though we'd have advised him not to have tried it in the first place.) Female contestants would find the going particularly treacherous – good luck trying to match notes with Andrea Corr or Dolores O'Riordan, for instance. And if Adam Lambert ever wanted to make a run at that record-shattering 35 standard deviation he posted for Ring Of Fire, we think a cover of O'Connor's "Nothing Compares To U" might do the trick.
Some savvy contestants would no doubt decide to go off the beaten path to find a suitable song – either a deep cut from a popular band's catalog, or a great composition from a lesser-known artist like Horslips or Hothouse Flowers. (The former's "Dearg Doom" might bring the house down in the hands of a skilled rocker, by the way.) We call this strategy George's Gambit, in honor of one of the most inspired song choices in the show's history. But, that road carries risks too. A quick scan of our database shows that obscure songs tend to be hit-or-miss propositions, very often winding up near one end of the rating scale or the other. Observe, for example, the two highest-rated performances on the all-time leaderboard along with the lowest-rated one. A contestant would have to weigh his options carefully before deciding whether to take this risk or simply to cross his fingers and hope to win the hat pick for "Chasing Cars".
In short, we'd expect Irish Music Night to be littered with triumphs and well-intentioned train wrecks...and, quite honestly, that's exactly what American Idol needs at this point. Above and beyond all of the other nonsense that 19E has wrought this year (whoops, there we go again), AI8 has been sadly devoid of water-cooler moments, both good and bad. At roughly the halfway point, with 68 of a presumed 143 performances in the books, we've had just six 5-star performances (none above 84) and four 1-star ones (zero since the group rounds). As you'll see in the nearby chart, no previous season has produced so few offerings at the outer reaches of our rating scale. And those are the performances that get people talking.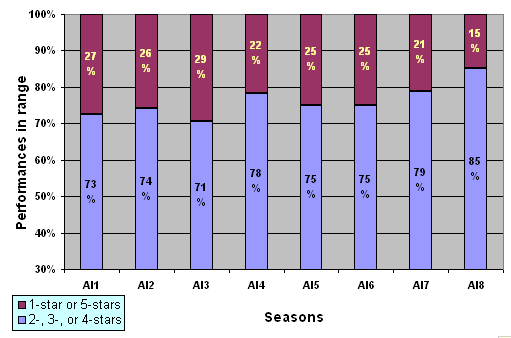 Figure 1: Thus far, only 15% of Season Eight performances have fallen into the 1-star
or 5-star ranges; that's about two-thirds the rate of past seasons.
Whether you loved "Ring Of Fire" or hated it – and for what it's worth, we stand one-third among the former group and two-thirds among the latter – there's no doubt Lambert delivered a 20,000-volt EKG shock into the heart of Season Eight. He blasted the show out of its comfort zone and forced viewers and reviewers to choose sides, which they did in record-setting fashion. Surely the other contestants took notice, and just as surely they don't want to spend the next two months serving as background singers on the Adam Lambert Hour. So if "Fire" prods them into taking a few risks of their own and thus breathing a little bit of life into this otherwise dreary season, then we'll not only forgive Lambert for the mess he made of a great song (though we'll never fathom what the heck was wrong with using Social Distortion's famous and respectful rock arrangement), but we might even thank him for it. If not, and if the show reverts to cranking out karaoke-style performances in that narrow trading range around 50...well, it's only going to get our Irish up even more.
- The WNTS.com Team