Editorials and Articles Archive
An Epoch Reboot
American Idol partied this spring like it was...2014?
26 May 2018
It's been seven hours and fifteen days, give or take a couple years, since American Idol took itself away for renovations. No question it needed some time to itself. There were relationships to repair and bankruptcies to settle, not to mention a Nielsen ratings graph that scarily resembled the downhill slope at Pyeongchang this winter.
Idol returned in the spring, and to our surprise, it looked nothing whatsoever like the first incarnation of the show. Everything had changed – the logo, the theme music, the host, the formula, the swaybots, the quality of the judges' critiques, the incessant renditions of I Have Nothing, even the excessive levels of high sarcasm in the annual WhatNotToSing.com season recap editorial!
Or not.
All snark aside, American Idol's sixteenth season, and its first on ABC, was pretty good. Not "epic" by any stretch; there are several spots in need of repair, which we'll get to soon enough. Some of the "good" was no doubt merely our delight at having AI back on the air after its 2017 hiatus. One of the "bad" things was really bad, even by AI standards
But, all things considered, "pretty good" seems to sum up the Idolsphere's mood this holiday weekend. AI16 was better than expected. It mixed a large helping of familiarity with enough new ingredients to keep us engaged. Its TV ratings were adequate; its WNTS ratings...well, it was the first year of a new epoch, so there's that. Most importantly, it left a nice foundation for Season 17 to build upon.
Let's take a look back at the previous two-and-a-half months, followed by a look back, er, ahead to what the second year of the Sixth Epoch might be like.
Signs o' the Times
Knowing that broadcast TV was still shedding viewers, and understandably wanting to hedge its bets, ABC signed on for a very abbreviated season. We didn't fully grasp how abbreviated it would be until the schedule was announced in January. AI16 was tasked to identify the next great American pop superstar, from anonymity to confetti, in just eleven weeks. Yikes! Even Season One ran two weeks longer. Here at the WNTS Offices, we briefly and optimistically assumed that this meant the number of pre-competition episodes would be cut substantially. Someday we'll wise up.
AI16 would also be the first Idol season with zero continuity among the judging panel. Keith Urban, Jennifer Lopez, and Harry Connick Jr. had all moved on to new ventures. Wanting to make a splash, ABC hired pop siren Katy Perry for a record-shattering $25 million. There is an obvious wisecrack to be made here, but we'll eschew it. Anyway, having blown most of their budget, Idol found two "cheap" judges to round out the panel: classic R&B crooner Lionel Richie and country star Luke Bryan. In this context, cheap meant $7 million apiece. Ryan Seacrest ($12M) returned as host, the job he's held on AI since day one.
The usual four weeks of audition and Hollywood shows came and went, full of sound and fury, signifying...well, signifying that Katy Perry is one weird bird. As they had the previous two seasons, the producers did a very good job of finding screen time for most of the 24 semifinalists. We saw some excellent Hollywood solo performances, some pointless group numbers, and yet another excruciating two-hour "reveal" show in which the judges torture the contestants by somberly pretending that a "yes" is a "no" for thirty seconds. For AI17, we suggest that they speed things up by tasering the contestants as they enter the room. Then tell them their fate as they writhe in pain on the floor. Same effect, except it'll save an hour of screen time that can be used for actual singing.
The semifinals ran for two weeks. Maybe three. Nobody is quite sure whether the Top 14 Week was fish or fowl. The first two weeks followed the AI15 script of a solo round plus a set of celebrity duets. The fact that your elderly WNTS Senior Editors hadn't heard of several of the "celebrities" is a state of affairs we've sadly gotten used to. Anyway, several of the duet performances were quite good indeed, and as long as they're the only duets on Idol's annual calendar, we'll keep our mouths firmly shut. We know a good deal when we see it.
The Top 14 were chosen solely by the judges. While we have a few minor quibbles with their selections, we concede that Messrs. Richie and Bryan and Ms. Mess likely didn't pass on the next Taylor Swift or anything. The live episodes began the following week, kicked off by a quintet of performances that averaged just over 25 among WNTS reviewers, undoubtedly making fans nervous that ABC might pull the plug on the reboot before the final commercial break. Thankfully, up stepped Ada Vox with a respectable 53-rated cover of The Show Must Go On, and from there the rest of the lineup, with one unfortunate exception, were solid. From Disney headquarters and across Idol Nation, roughly 9 million people wiped their brows.
Ah yes, Miss Ada. The happily scenery-chewing alter ego of San Antonio native Adam Sanders became the first drag artist to reach the Finals in the show's long history. He and Denver's Jurnee Siani, a young newlywed military spouse, made Season 16 the first with two openly gay finalists. Vox finished tied for 8th, which seems more or less right – she perhaps deserved one extra week based on her approval ratings, but some of those song choices were nothing short of dismal. Jurnee left in 6th place, which was surely too early; she pitched only the fourth perfect game in WNTS annals, became the first contestant to rap in a competition performance, and delivered a duet with Lea Michele that, unofficially, was the only 90+ "showstopper" of the season.
America chose six of the Final 10: rocker Cade Foehner; country singers Gabby Barrett and Caleb Lee Hutchinson; contemporary R&B'er Michael J. Woodard (who won the lone season of Majors & Minors as a 14-year-old, bravely singing each week to a TV audience of hundreds, maybe); and two young women who pretty much defied all attempts at categorization: Catie Turner and Maddie Poppe. The judges advanced four wild cards after a sing-off the following evening: Sanders, Siani, soul crooner Dennis Lorenzo and bilingual Michelle Sussett, a Florida waitress originally from Venezuela.
The Top 14 results produced a spot of controversy in some corners of social media, though that's nothing new. Five of the six contestants voted through by viewers were white, while all four wild cards were people of color. In turn, other corners fired back that Sussett, the last remaining Latina, was chosen over 15-year-old Mara Justine despite three decidedly not-so-hot performances to date (average rating: 25.7). More on this later when we discuss the voting system.
On a much more pleasant demographic note, and one likely overlooked by most of the Idolsphere: four of the Final 14 were from the Philadelphia area. Justine, Lorenzo, Turner and Woodard all call the Delaware Valley home. Trust us, this was a big deal around our neck of the woods, considering it was one more finalist than our proud region had produced in the previous 15 seasons combined. (Justin Guarini, Anthony Federov, and Jermaine Jones, if you're wondering.) Sadly, if this foursome sang an impromptu Eagles Fight Song on camera at any point, the scurrilous producers left it on the cutting room floor.
Manic Sundays
Thus far, the competition nights had been rather lackluster, with only the Top 14 Redux show barely cracking 50 on the WNTS dial. Coincidentally, Season One started out much the same way: a very young cast, uneven performances, one episode at 50-and-change, everything else under water. Idol 1.0's debut season didn't really get started until the producers hit upon a theme that surely rolled some eyes when it was first announced, but which wound up producing a hugely entertaining evening of performances. Idol 2.0's debut season – well, might as well stick to a winning formula, right?
Disney Night was an unqualified smash. At 61.0, it became just the 16th episode ever to average 4-stars, and it was the first to do so with 10 or more contestants. That it served up just one 5-star performance – Woodard's soulfully rearranged Beauty and the Beast, an 82 – underscores how consistent it was from start to finish. Only Sanders's performance fell below 40, largely due to a pat song choice that even "predictable" doesn't adequately describe. Had Miss Ada done, say, "Zero to Hero" from Hercules, or one of the many outstanding over-the-top Villain Songs in the Disney canon – "Poor Unfortunate Souls", "Be Prepared", "Hellfire", "Shiny", pick one dammit, arggh!! – the all-time episode record might have fallen.
We should pause here to point out that if ABC does a Disney theme every season, it's going to get very old very fast unless the producers put restrictions on how frequently any given song may be performed. You've been warned.
The Final 10 show also introduced 19E's latest brainstorm on how to handle eliminations in the no-Results-Shows era: the episode was telecast live across all U.S. time zones, voting was done in real-time over the Internet, and the results were announced after the final commercial break. This from the TV show that brought you the Blankens Chairs, the Twitter Save, the Mid-Episode Sayonara, the Backstage Whacking Before the Finale...sheesh. This particular "innovation" from Trish Kinane and her merry band of co-Executive Producers (there's so many of them nowadays that we doubt they've all actually met) was...let's see, how should we put this?...friggin' brilliant. No, seriously. It's evident by now that there's no ideal way to handle this awkward situation, but AI16's approach is lightyears superior than anything Idol has tried before. Kudos to Kinane and Co. for coming up with a modern and workable solution and executing it flawlessly.
Well, maybe we'll back off on the "flawlessly" part. Voting ended so quickly during the last break that many fans wondered, fairly we think, if anchor singer Lorenzo was unfairly disadvantaged. His 74-rated Can You Feel The Love Tonight is one of the highest-rated elimination performances at such an early stage of the competition. Many diligent viewers who waited until the end of the show so that they could, go figure, watch all the performances before deciding who to vote for, were disenfranchised. Oh well, even when the producers do something spectacularly right, we guess they feel the need to do something spectacularly wrong to maintain their karmic balance. The fast-closing window wasn't a serious problem in later shows because each singer sang more than once, but this is something that ABC needs to address before next season.
Sanders, Lorenzo, and Sussett were eliminated, social media exploded in anger again, etc. Sussett, at least, left on a remarkable high note: Remember Me set a new WNTS record for the largest gap between a contestant's average rating to date (minimum of 2 performances) and her next performance rating: a whopping 43.3 points. The previous record was 41.4, and we're guessing that longtime viewers won't be surprised one iota to learn what legendary performance held it. Having come up with no descriptive and pithy name for such a bolt-out-of-the-blue achievement, it will henceforth be known around these parts as "a Sussett".
Disappointingly, the seven remaining singers couldn't maintain their momentum in the two-song Final 7 episode, themed Prince and Year You Were Born. The seven performances of The Purple One's music were generally pretty good, highlighted by 5-star outings from Poppe (Nothing Compares 2 U, whose normalized 89 was highest on the season) and Barrett (How Come U Don't Call Me Anymore at 80), and a near-miss from Hutchinson (at alt-country When Doves Cry, 77). The Birth Year songs, not so much; only Poppe and Jurnee topped 50, neither by a lot. It added up to a 46.9 overall, ending with trips home for Turner (who'd forgotten the words to Manic Monday right out of the gate) and Jurnee.
The five remaining contestants earned a visit to Nashville. AI4 champ Carrie Underwood, who has since gone on to serve famously as Camp Should-A-Been's summer petting zoo keeper – um, okay, maybe she's famous for some other stuff, too – served as mentor for the Final 5 show. The first hour didn't go well at all, with the contestants struggling with Underwood's catalog to a 41 average rating. Fortunately, the producers had an ace in the hole for the second hour: Mom. The episode aired on Mothers' Day here in the States, and the final five dedication performances all finished above average.
Another WNTS record fell this evening: Barrett delivered the godforsaken tenth rendition of I Have Nothing, prompting our senior editorial staff to yank out what little hair they have remaining. But, um, "Nothing" scored 78, highest on the night, so we glued it back on sheepishly. We might be sick to death of hearing that stupid song, but with an average rating of 62 there's no question it works on American Idol. We'll up our meds next spring to prepare for the inevitable eleventh cover.
Poppe, incidentally, had carried two perfect games of sorts into the penultimate episode. Not only had she rated above 50 every time out, she was on track to pull a "Cook": she'd yet to choose a song that had previously been sung in competition on AI. Sadly, that last streak was snapped this week, as her show-closing number, God Only Knows, had been done by Dalton Rappatoni towards the end of AI15.
After the live vote was tallied, Woodard was eliminated along with Barrett's boyfriend, Foehner. Good thing, too. Imagine how awkward it would be if two contestants who were dating were in the Finale together.
Three sets of hometown trips followed, and the compressed season ended on May 20th with a two-hour Finale. Round one featured everyone's favorite American Idol tradition: Original Winner's Songs™. To be fair, all three this year were penned by accomplished songwriters, including Julia Michaels and Rascal Flatt's Jay Demarcus. Poppe kept her perfect game alive with a 53 on Going Going Gone (aka Home-Lite), but Hutchinson missed his cue on Johnny Cash Heart and gave Kat McPhee some long-awaited company in the category of Lowest-Rated Finale Performance, a 13.
For the Favorite Performance round, Barrett inexplicably went with her Top 14 "victory" song, Little Red Wagon – the only true reprise of the season. She was quoted afterwards as calling this a really poor choice, saving us the trouble. Poppe and Hutchinson wisely chose Hollywood performances. If short seasons will be the norm for Idol 2.0, this strategy should be automatic. Incidentally, Poppe's original composition Don't Ever Let Your Children Grow Up scored a healthy 79. The producers also gave four eliminated contestants a chance to perform original material during an extended medley segment. Several of our regular reviewers scored them for fun, and one, Turner's "21st Century Machine", looks like it would have rated out somewhere in the neighborhood of 60.
Round three was Hometown Dedications, and again, Barrett stumbled. Though Steve Perry, who was in the studio audience, excitedly said that her cover of Don't Stop Believing was "the best [he's] ever heard", web reviewers begged to differ rather forcefully. Its 25 approval rating was Barrett's lowest by far on the season (she'd not dropped below 3-stars until tonight.) Hutchinson and his late pal in Reno delivered a 60 on Folsom Prison Blues, while Poppe capped the night with a massive 86 on Landslide – again, a song with but one previous Idol performance. With that, the Iowa native successfully completed the fifth perfect game, and just the second of the full-season variety, in WNTS history.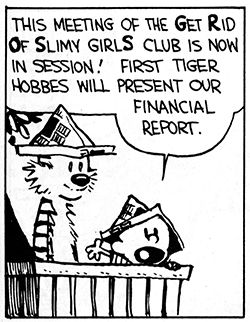 The results show , like the season as a whole, was "pretty good", though whatever tuneless song Nick Jonas and DJ Mustard performed will hopefully never see the light of day in our database. Most of the celebrity-contestant performances were terrific. Poppe got the opportunity to duet with Kermit The Frog, which is a résumé line-item worth its weight in gold. Barrett's song choices ultimately did her in; the betting favorite was dismissed mid-show as the third place finisher. Hutchinson then made some announcement concerning himself and Poppe that we missed. Oh well, it couldn't have been that important.
After a final brilliant ham-it-up duet from Vox and Philly's own Patti LaBelle, it was time to announce the winner. Would it be yet another WGWG? Not this time. 20-year-old singer-songwriter Maddie Poppe, propelled by one of the most impeccable series of song choices we've ever witnessed, became the sixteenth American Idol champion...and, not incidentally, the first WLWG to break through for the win. (We'll let our esteemed colleague Calvin explain where we came up with the 'L'.)
Let's Go Crazy
So what can be improved upon for next year? Let's start with this: the season was too damn short. Boy, bet you didn't see that coming, huh? In all seriousness, we fully understand the reasons why ABC erred on the side of caution this year, but they clearly should loosen the reins for AI17. We're pretty sure they will.
Our fondest wish is for the season to start in Hollywood, with auditions shown only in flashbacks when a contestant is spotlighted. If four weeks of exposition episodes are non-negotiable to recoup the enormous cost of the audition process...(*sigh*) okay, fine, but at least extend the competition phase to give lesser-exposed singers a fighting chance to display a growth arc. Haley Reinhart wouldn't have survived past Opening Night in this nutty format. A Top 14(x2)–10–8–6–5–4–3 sequence requires only two additional weeks and still maintains a healthy pace of urgency.
AI16's season approval rating of 49.6 is the lowest since Simon Cowell's departure. This appears entirely due to the accelerated schedule, which produced a wildly disproportionate ratio of "inexperienced" to "experienced" performances. Early episodes are always dicey affairs – the field hasn't been whittled yet, there are always a few contestants who wilt when the red light goes on, and even strong contestants have been known to experience some rookie stage jitters. It's always a delight when Idol uncovers a Melinda Doolittle or a Crystal Bowersox, who can hit the ground running and never stop. But, as we've learned over the better part of two decades now, they're few and far between.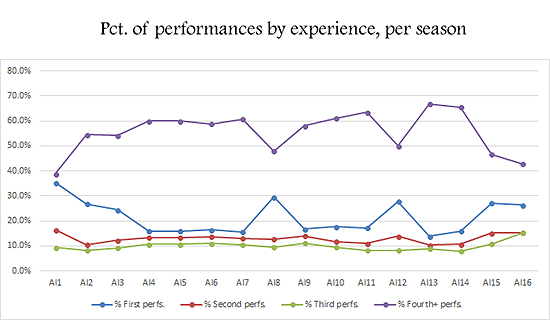 The chart above illustrates what we mean. Among all American Idol seasons, AI16 had one of the higher percentages of "qualifying" solo performances (no groups, no OWS's, no reprises) from first-time singers (the blue line). They were tied for second-most from second-time singers (red line). They obliterated the record from third-time singers (green line.) And, among Idol "veterans" with at least three performances under their belts (purple line), they were second-lowest at just 42%, trailing only Season One. True, we are not counting semifinal celebrity duets in this study, which skews the data – as forced and uncomfortable as they often are, surely they count for something in terms of stage experience. Even with that grain of salt acknowledged, however, we think this graph helps explain why WNTS ratings were down this season.
The music of AI16 was newer and more modern than usual. It still has a way to go to be truly relevant to today's recording industry, but it was right on par with the Fifth Epoch (read: post-Nigel Lythgoe) years. The Freshness Factor this season (percentage of songs performed for the first time in competition) was a healthy 60%. The Repeat Factor (average number of previous performances) was 0.95, despite Barrett's dalliance with IHN – in fact, it was a sweet 0.87 without it! Similarly, the Average Song Age was 20.2 years, third lowest ever, despite Poppe's whopping 32.6 in her eleven performances.
AI16 became only the second season with no performances rated at 90 or higher. This was despite a very generous end-of-season normalization that caused outlying ratings to gain or lose as many as three points. Season 14 at least had one highly unusual performance that may have caught some nightly reviewers off-guard, but which has aged very well. Season 16...we dunno. "Nothing Compares 2 U" was outstanding, but we doubt many WNTS readers will insist three years from now, "That performance was robbed!"
For what little it's worth, one of us believed that two performances this year deserved 90s. Coincidentally, they were delivered back-to-back: Lorenzo's In My Blood and Poppe's Homeward Bound, from the first Top 14 episode. "Bound" at least came close with an 87, but "Blood" stalled at 62. As we frequently point out, even we staffers don't always agree with the Idolsphere's grades.
Another odd statistical fact from Season 16: it had the second-highest percentage of qualifying performances with extreme standard deviations, which we define as 25 or above. AI10 had 17.6%, which is a record that may never be broken. Until this year, a distant second place was held by AI1 with 10.6%. Thirteen of AI16's 91 non-reprises/coronations/duets had high s.d.'s; or 14.3%.
In the past, it was usually easy to explain why viewers were polarized over a performance. Sometimes it's due to a disruptively unusual arrangement (think Adam Lambert's Ring of Fire). Other times, it's due to a campy or over-the-top delivery (think Nick "Normund Gentile" Mitchell's And I Am Telling You...). Still others are due to a few clear pitch problems in what is otherwise a dramatic and well-staged performance (think Paul McDonald's Folsom Prison Blues.) This year, however, the high-s.d.'s seemed to emerge entirely at random. We'll chalk it up to high variances being more or less the norm in Year One of a new epoch, but we'll certainly keep an eye on this in 2019.
Speaking of polarizing, let's bring out our three judges. Put your hands together for Katy Perry, Lionel Richie, and Luke Bryan! No, not around their necks, though we can hardly fault you. Reviews of their first-year performance span the gamut from high praise (for their sincere and fun on-screen chemistry; we concur) to blistering criticism (for their high-pablum, mostly-useless game night critiques; oh boy, do we ever concur.)
To be clear for posterity, we thought the judges were wretched. We'd call them the worst panel in the show's history, except those flashbacks to AI12 keep interfering with our typing. Perry at least offers some comic relief, if her antics are your idea of comedy. Richie apparently believed he was playing the role of a world-wisened veteran cop; to us, he came off more like comedic Patrick Warburton than dramatic Morgan Freeman. Bryan...well, look. When we posted our lone mid-season editorial, we actually had to do a web search to verify that we were citing the right country singer. Even though we'd been watching him for six weeks. You probably think we're being facetious. You cannot imagine how much we wish we were.
In post-season interviews, all three acknowledged that, yes, they underestimated how difficult their seemingly-cushy jobs would actually be. They grew close to the contestants over their months-long journey. They knew firsthand how tough it was to break into the music business. They saw very talented young singers, some probably more talented than themselves at that age, desperate for a chance. They wanted to be supportive and nurturing and encouraging, even to the ones who clearly didn't have what it took to win American Idol. They're already discussing among themselves how they can do their jobs better in 2019.
Fair enough. We appreciate the candor, and we'll give them one more year. It's not like we have a choice or anything; all three are coming back whether we like it or not. But, if we were ABC, we'd be putting out feelers for who might be available in 2020, just in case the situation on the ground fails to improve.
Trish Kinane and her team, meanwhile, get high marks from us. Given that they're the AI Production Staff, "high marks" is relative. The show remains beset with its usual bugaboos – too-short performances, too much filler, uneven pacing, bad sound mixing, overwrought feature segments that come off like outtakes from The Hallmark Channel, those accursed swaybots in the stage pit,..oy. It's been 16 years, or roughly one-fifth of a human's allotted lifetime, so hoping that these annoyances will magically disappear next season is a ship that sailed long ago. The producers resurrected the series successfully, adroitly fixed the gaping wound left by no Results Shows, ran what appeared to be a fair and agenda-free competition, crowned a worthy winner, and actually have us looking forward to Season 17. Well done, lasses and lads.
I Could Never Take the Place of Your Man (or Woman)
The American Idol voting system is way better than it used to be. It's easier, fairer, less intrusive, and much less vulnerable to two-hour-power-voting blocs of overexuberant fankids. We doubt seriously that the quirky Poppe would've had much of a chance to win in, say, 2007.
Still, there are inequities, and the fact that they get overblown on social media means only that a lot of annoying gadflies hang out online. It categorically doesn't meant that the inequities don't exist.
We demonstrated years ago that white, male, and Southern contestants (but, against the conventional wisdom, NOT young contestants) advance deeper in the competition than their approval ratings would seem to justify. American Idol has taken a few steps to correct for this: highly diverse initial casting, non-voting semifinals, copious wild cards to fill out the Top 10. Eventually however, the choice has to be left to America. Twitter and media gadflies don't buy nearly enough records to justify anything else.
A few minor changes might help. Have Ryan Seacrest pointedly urge viewers to vote early and often for "the singers you believe deserve to advance", rather than for "your favorites." Give online voters a total of 100 votes to apportion however they see fit, rather than the familiar "up to 10 votes per contestant per method". Country fans, say, would be perfectly welcome to split their votes between two Nashville hopefuls, but they'll have the same overall say as a voter who only really likes the one remaining R&B singer. There are other normalizations available, too, which have been tried and tested in parliamentary elections for decades. As always, we offer the producers to drop us an email and we'll be glad to point them in the right direction. One of these years, they might even take us up on it.
One suggestion we totally and violently oppose is bringing back any variation of a Judges' Save, as Gerrick D. Kennedy of the L.A. Times suggested this week to our utter dismay. Enough of that gimmick, already. First of all, it almost always backfires spectacularly, like one of the harebrained schemes of the It's Always Sunny In Philadelphia gang but without the laughs. Second, as it was, three AI16 contestants were given the opportunity to perform four times in competition without ever being advanced by the voters. Four times! Is anyone seriously suggesting that a fifth chance will be the charm? And if that doesn't work, maybe a sixth? Stop it.
In the end, America's collective sentiments always win out. Some years sooner than others. During the Final 7 reveal, Editor Amy texted the home office immediately with the observation – made simultaneously no doubt by half of the TV audience – that the first six advancers were the same six that America voted into the Top 10 a week earlier. To us, it felt like the Idol electorate was saying, quite plainly and firmly to its critics, "Get the hint?"
Baby I'm A Star
While viewers mostly found the just-concluded season okay, the entertainment industry as always is withholding judgment. First they want to see how many records the winner sells. Actually, that's the only thing they want to see. To WNTS readers, the name Candice Glover is associated very fondly with the number 96. To the music business, she's associated with a different number: 27,000. We reluctantly concede that their number carries a tad more weight in the real world.
This time, however, there's a mouse in the house. The Disney Corporation, owners of ABC, are reportedly prepared to throw some weight of its own around to promote the winner. Needless to say, nobody in the history of the planet Earth does cross-marketing like Disney, so this should be interesting.
Poppe would seem like an ideal winner for Mickey, Inc.. She's young, pretty, personable, and incredibly imaginative (that last trait is something Disney truly craves.) The first three artists America heard her cover, going back to her audition, were by Kermit the Frog, Brandi Carlile, and Melanie. As judge Richie might put it, "That, my friends, is what's called panache."
Best of all from a marketing standpoint, Poppe is versatile. She won't be fronting any Black Sabbath tribute bands soon, but her voice seems to fit right in the sweet spot between pop, country, and folk. An anecdote to that end is as follows. Editor Nick missed the first hour of the Final 5 episode; he was driving home from taking his son back to college. (It was Mothers' Day, people; would you ask your wife to do it so you could stay home and watch American Idol?) Using his phone app and Bluetooth, he piped the audio through his car stereo. One gets a very different perspective by listening to the performances rather than watching them. To make a long story short, Poppe's voice wasn't the strongest, but it was the most radio-ready by a mile. While the Idolsphere frequently compared her to Rachel Platten or Colbie Caillat, she in fact sounded uncannily like a young version of a different, accomplished, female singer-songwriter. Hint: see the previous paragraph, in between K.T. Frog and M. Safka-Schekeryk.
We'll soon see if Disney can work some post-Idol magic on her behalf. The franchise needs it badly to help restore its relevance. Considering all the attention paid to demographics online this year, often negatively, let's finish here with a positive twist on that subject. Poppe is only the third white female to win American Idol in sixteen seasons. (Yes, really!) Now, recall who the first two were.



So, now that it appears the reboot will survive at least three seasons, what can we loyal fans expect of the Sixth Epoch?
To be honest, its first year looked a lot like the Fifth's. A whole lot like it, in fact. 2014 brought a bunch of quirky, musically diverse singers performing mostly modern, and sometimes original, material. AI13 perhaps had a better Top 4. AI16 had a much deeper Top 10. Four years ago, we thought we'd entered the Epoch of Artistry on American Idol. We were highly optimistic about what Season Fourteen would bring.
That didn't last long.
AI14 was a mess. Some of it was due to bad luck, as we observed in our post-mortem that May. Much of it...wasn't. Long departed Executive Producer Per Blankens, no doubt acting on orders from on high, tried to weld both suspense and social media buzz onto the Idol experience at impossible angles. Wild hijinks ensued. Were it a Monty Python skit, with John Cleese playing the EP role and Michael Palin as a hapless contestant, it would've been hilarious. Pity it was real life.
The Fifth Epoch got short-circuited in year two by its keepers, and it never came close to recovering. We'll never know how good – or, to be fair, how bad – it would have been were it allowed to develop organically.
Then again, maybe we will.
Maybe in addition to rebooting Idol 1.0, AI16 also rebooted the Fifth Epoch. Maybe Season Seventeen will be the alternate-universe Season Fourteen we didn't get to enjoy. Maybe it'll attract another strong cast of eclectic artists who have original songs they want to share beyond YouTube (why else was that medley inserted into the Finale?) Maybe this time they won't be forced to sit onstage in ridiculous light-up chairs for two hours, worrying that they'd already been eliminated. Maybe the dismissal pattern won't be as depressing. Maybe this time, Fancy will get its damn 90.
Maybe next year, American Idol will take us back to the future...er, discover the missed past in our future...have days of future past...aw, screw it. Let's just say maybe it'll be a prince of a season. See you next March.
- The WNTS.com Team